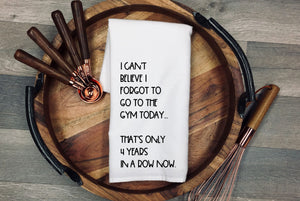 I can't believe I forgot to go to the gym today... That's only 4 years in a row now.
Custom tea towels make a great gift for any occasion! This is a White tea towel that measures 28" x 28" and is 100% cotton. 


Towels are machine washable
Flour sack towels that can easily be used for your everyday-household related chores for today and tomorrow, with each of the towels measuring 28 x 28 inches
Multiple Uses – Towels are highly absorbent, they work great as cloths, for wiping away stains, as dish rags, as cheese strainers, for cleaning windows, cloth diapers, sweating-out vegetables and for needlework or embroidery. They work great for cleaning & polishing glasses as well
Expert Craftsmanship – Sewed with 100% pure cotton, the edges have been professionally hemmed and have been graded for product durability & quality control.
Long-Lasting Design – Towels are designed to be light-weighted & lint-free. They are of high quality making them greatly absorbent and quick drying  Machine Washable & Reusable – Can be machine washed and having these around is also sure to reduce the usage of paper towels. Be sure to wash the towels before the first use to reduce lint and increase the absorbency